Welcome to the
Golf- und Land-Club Berlin-Wannsee e.V.
Founded in 1895 by British and American diplomats, we are one of the largest and most renowned golf clubs in Germany.
The course in the Wannsee district was built in 1926. The varied, narrow fairways make room for old trees. Its rolling hills, atypical of the flat Brandenburg countryside, provide golfers of all skill levels athletic challenges and revitalizing tranquillity in equal measure.
Guests are welcome to play our courses on weekdays.
Weekends and holidays are reserved for our members and their guests.
We require a valid membership card from an accredited golf club.
18-Hole Championship Course – Handicap confirmation of 36 or better
9-Hole Course – Beginners' Permit (Handicap 54)

Tee Times
Please contact us for the obligatory reservation of tee times which can be booked 7 days in advance.

Restaurant/ EUREF Halfway-House
Our restaurant will be open from 10 a.m. to 8 p.m. Our EUREF Halfway-House offers vending machines with snacks and beverages.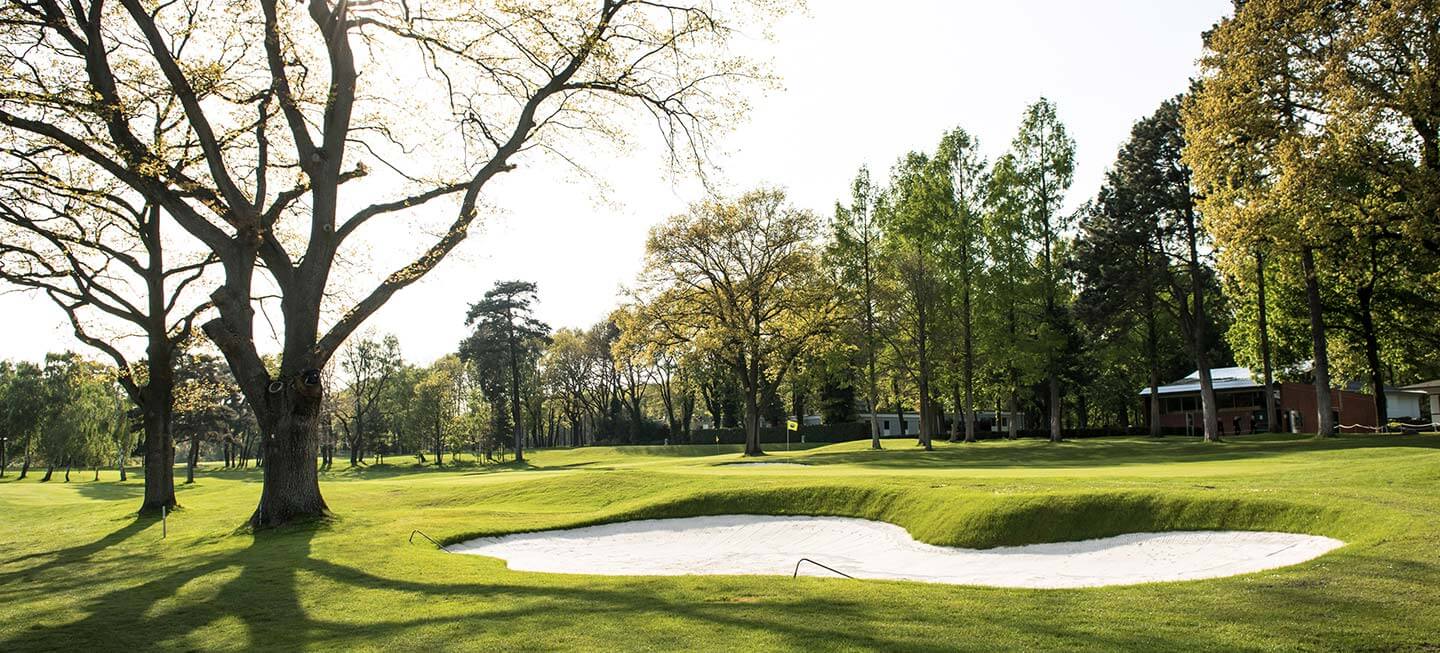 Map & Travel Directions
Should you be traveling from city center, depending on traffic congestion, you should arrive here within 30 to 45 Minutes. Please click here for directions.
Green Fees
18-Hole Championship Course € 180.-*
9-Hole Course € 90.-*
*We offer half-price reductions for guests under 18 years of age as well as students and apprentices with proper identification. The green fee includes the use of our practice facilities (unlimited driving range balls); use of our locker rooms, locker rental, shower facilities and bath towels. Please be advised that we do not offer sole use of our practice facilities.

Pro Shop Rental Equipment
Please contact our Pro Shop for equipment reservations.
Golf Carts: We do not offer carts – we are a walking course.
Golf Bags: € 25.-
Trolleys for golf bags:

Pull € 7.-,
TiCad € 10.- and
TiCad Electric € 25.-

Course Etiquette
Please do replace your divots and repair your ball marks. We discourage the use of cell phones. Smoking is not permitted in the club house. German law prohibits smoking on the course during dry periods.
Social Media – Privacy Policy
Please be advised that a stringent privacy policy is regulated by German law.
Photographs, videos or other digital images taken of The Golf and Country Club Berlin-Wannsee or otherwise referencing our club may not be posted or displayed online, whether through social media (e.g., Facebook, Instagram, Twitter, etc.) or any other website or forum, without our written permission. Additionally, any references to our course or its members, activities, events or practices that are or might become accessible to the public (e.g., via hash tags, comments, location check-ins, etc.) are not permitted.
The purpose of this policy is to protect the privacy, confidentiality, and interests of our course, its members, and their invited guests. This policy is not meant to limit the taking of photographs or videos for private, personal use by members or their guests.